Reading comprehension: E-COMMERCE
More people are shopping online between 1997 and 2002, the number of online shopping households in the US grew from 5m to 36.5m online sales increased from $2.4 billion to more than $72 billion. By 2007 nearly 63 million people, almost two thirds of all US households, will shop online and sales will exceed $217 billion, or eight percent of total US retail sales. Today people are more comfortable shopping online than they were in the past.
Some countries do less online shopping than North America. In Europe things are getting better. The number of online shoppers who bought at least once in the past three months increased to 17 percent of all European. That is a 14 percent increase compared to a year ago.
Some consumers will never feel comfortable shopping online. They do not want to use credit cards online. They worry about delivery or they prefer to shop in stores. However, customers expect retailers to have a website, where they can do research before going to the store. There are opportunities for both traditional retailers and online retailers to succeed.
From FT.com
ARE THESE SENTENCES TRUE OR FALSE?
1. Online shopping increased in the US between 1997 and 2002. -----TRUE----
2. Sales Hill be more than $217 billion by 2007. ----TRUE----
3. People are less confortable shopping on line than in the past. -FALSE--
4. The number of online shoppers in Europe is less than a year ago. -FALSE--
5. All customers will feel comfortable shopping online. --FALSE--
6. Customers don't expect retailers to have a website. --FALSE--
FOCUS ON GRAMMAR:
1- CIRCLE THE CORRECT VERBS TO COMPLETE THIS CONVERSATION.
A= Where do / ARE you from, Anton?
B= I'M/ be from Milan, in Italy. And you?
A= I comes / COME from Jakarta, in Indonesia.
B= Oh, really? And where DO / does you live?
A= I DON'T / doesn't live in Jakarta now, but I LIVE / lives in Canada. My husband and I HAVE / has an export business.
B= And what do you exports / EXPORT?
A= Local hand-made products.
B= That's interesting. So does/ IS your company based in Canada?
A= Yes, it is. But we don't / AREN'T there very often. My husbandtravel / TRAVELS a lot in Europe, and I WORK / works more in the USA.
B= So he don't / DOESN'T see you very often!
A= No. But we ARE / do usually at home in July and August.
2. COMPLETE THE PARAGRAPHS WITH THE CORRECT FORM OF THE VERBS IN BRACKETS.
John _GETS UP__ at seven o'clock. He ___HAS_____ a shower. Then he ___GETS_ dressed. He __HAS___ coffee and toasts for breakfast. He __LEAVES_____ his flat at half past eight. He GOES___ to work by bus. He ___WORKS _________ in an office. He _____STARTS_____ work at nine o'clock. At one o'clock he _____HAS___________ lunch in a small café. He __FINISHED________ work at five o'clock. Then he ____GOES________ home, he ___STUDIES_______ Portuguese and he ______ _WATCHES____________ television.
3. READ THE FOLLOWING ANSWERS AND ASK QUESTIONS
1. WHERE DO YOU WORK FOR?
I work for Michelin.
2- IS IT AN AMERICAN COMPANY?
No, it isn't. It's a French Company.
3- HOW DO YOU GO TO THE GYM?
I go to the gym by bicycle.
4- IS THERE A CAR PARK NEAR THE HOTEL?
Yes, there is a car park near the hotel.
5- AT WHAT TIME CAN YOU HAVE LUNCH?
I can have lunch at work from 1pm to 2pm.
6-_ARE THERE any three star hotels in the city?
Yes, there are.
8- ARE YOU AN ENGINEER?
No, I'm not.
4. IMPERATIVES VERBS: HERE ARE SOME ADVICE FOR GIVING A PRESENTATION. CHOSE VERBS FROM THE BOX BELOW TO FILL THE GAPS, AS IN THE EXAMPLES.
USE* ASK* LOOK* READ* WRITE* CHECK* SPEAK* PAUSE* ANSWER* PREPARE*
SECRETS OF A SUCCESSFUL PRESENTATION
þ PREPARE your presentation in advance. DON'T WRITE everything you want to say- just the main points.
þ -------LOOK-------- at your audience. ------------ READ-------------- your notes all the time.
þ --------USE----------- visual information to illustrate your presentation, and --------------CHECK------------ that everybody can read it.
þ -------DON´T SPEAK----------- too quickly . ------------ PAUSE----------- every two minutes to give people time to think about what you are saying.
þ ----------ASK------------------------ your audience to wait until the end to ask questions. --------ANSWER -------------- questions immediately.
5-FOCUS ON EXPRESSIONS: ORDER THE FOLLOWING EXPRESSIONS
1. I- YOU- GET- SOMETHING- CAN- ? CAN I GET YOU SOMETHING?
2. TALKING- YOU- NICE- TO. NICE TALKING TO YOU.
3. A- HOTEL- THERE- THE- IS- BAR- IN- ? IS THERE A BAR IN THE HOTEL?
4. ME- EXCUSE- PLEASE. EXCUSE ME PLEASE.
5. WORK- TOYOTA- I- YOU- FOR- HEAR. I HEAR YOU WORK FOR TOYOTA.
6. A- PEOPLE- OF- HERE- KNOW- YOU- LOT- DO- YOU- ? DO YOU KNOW A LOT OF PEOPLE HERE?
7. CASH DISPENSERS-ARE-THERE-NEAR HERE? ARE THERE CASH DISPENSERS NEAR HERE?
6- Describe the organizational chart of Boston Bank. Let's suppose you are the Training Manager.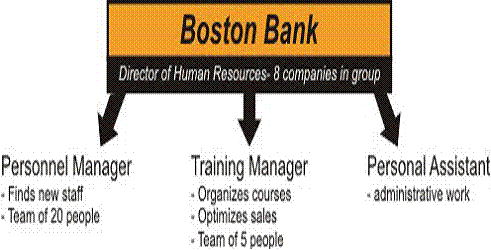 I WORK FOR BOSTON BANK. I REPORT TO THE CEO.
I'M THE DIRECTOR OF HUMAN RESOURCES AND I MANAGE 3 (THREE) DEPARTMENTS: THE PERSONNEL DEPARTMENT, THE TRAINING DEPARTMENT AND THE PERSONAL ASSISTANT AREA.
THE PERSONNEL MANAGER MANAGES A TEAM OF 20 PEOPLE. THE TEAM IS RESPONSIBLE FOR RECRUITING NEW STAFF.
THEN, THE TRAINING MANAGER IS IN CHARGE OF A TEAM OF 5 PEOPLE AND THEY ORGANIZE COURSES AND OPTIMIZE SALES TO THE COMPANY.
AND FINALLY, THE PERSONAL ASSISTANT IS IN CHARGE OF ADMINISTRATIVE WORK.
2
2
2
1.Simple Present
Escribe los verbos en la forma correcta de simple present: construye oraciones interrogativas, afirmativas o negativas.-
1. Anne (work)

in a language school.
2. She (be)

a teacher.
3. The children (be/not)

tired.
4. Carol (have/not)

any brothers or sisters.
5. (have/you/a dog)

?
6. (speak/they/English)

?
7. (be/I/right)

?
8. Her students (come)

from all over the world.
9. Anne usually (go)

to school by bus.
10. On the bus she (have)

time to correct a few tests.
11. I (drink/not)

milk.
12. She (like/not)

maths.
13. I (be/not)

from England.
14. (play/he/tennis)

?
15. (be/you/on holiday)

?
2. Present Progressive
Elige la forma correcta de present progressive.
1. Jane (do)

the washing-up at the moment. She thinks that her kids (run)

around in the garden. But they (play/not)

in the garden. Ben (sit)

in front of the TV. He (watch)

a film. Emma (lie)

on the sofa. She (watch/not)

TV.
3. Simple Past
Escribe los verbos en simple past.
1. William (visit)

his grandparents last weekend. (affirmative sent.)
2. We (go)

to Bob's birthday party yesterday. (affirmative. Sent)
3. I (be)

on holiday last week. (affirmative sent.)
4. She (see)

fire. (affirmative sent.)
5. I phoned Lucy last night. → I

Lucy last night. (negative sentence)
6. We found the treasure. → We

the treasure. (negative sentence)
7. He spoke Spanish. → He

Spanish. (negative sentence)
8. (you/dance)

at the party last night? (interrogative sentence)
9. (she/do)

her homework? (interrogative sent.)
10. When (I/say)

that? (interrogative sent.)
4.Future simple (will or going to)
Escribe oraciones afirmativas en future simple.
1. (I/do/this/right now)

2. It (rain/not)

tomorrow.
3. I promise I (be/not)

late.
4. (it/snow)

?
5. (when/you/get/home)

Final del formulario
6. I (move)

to another town.
7. My husband (build)

a tree house for the kids.
8. We (invite/not)

him to our party.
9. Greg (work/not)

abroad.
10. Our neighbours (spend)

their next holidays in the Caribbean.
5. TRASLATE THE FOLLOWING TEXT (BCOS)
Online debit system
Online debit cards require electronic authorization of every transaction and the debits are reflected in the user's account immediately. The transaction may be additionally secured with the personal identification number (PIN) authentication system; some online cards require such authentication for every transaction, essentially becoming enhanced automatic teller machine (ATM) cards .
One difficulty with using online debit cards is the necessity of an electronic authorization device at the point of sale (POS) and sometimes also a separate PINpad to enter the PIN, although this is becoming commonplace for all card transactions in many countries.
Overall, the online debit card is generally viewed as superior to the offline debit card because of its more secure authentication system and live status, which alleviates problems with processing lag on transactions that may only issue online debit cards. Some on-line debit systems are using the normal authentication processes of Internet banking to provide real-time online debit transactions.
SISTEMA DE DEBITO EN LINEA
LAS TARJETAS DE CREDITO EN LINEA REQUIEREN AUTORIZACION ELECTRONICA DE CADA TRANSACCION Y LOS DEBITO SON PLASMADO EN LA CUENTA DEL USUARIO INMEDIATAMENTE. LA TRASACCION DEBE SER ASEGURADA ADICIONALMENTE CON EL NUMERO DE IDENTIFICACION PERSONAL (PIN) AUTENTICADO EN EL SISTEMA; ALGUNAS TARJETAS EN LINEA REQUIEREN TAL IDENTIFICACION PARA CADA TRANSACCION, ESENCIALMENTE MEJORANDO LAS TARJETAS DE LOS CAJEROS AUTOMATICOS.
UNA DIFICULTAD CON EL USO EN LINEA DE LAS TERJETAS DE CREDITO ES LA NACESIDAD DE UN DIPOSITIVO ELECTRONICO AUTORIZADO EN EL PUNTO DE VENTA (POS) Y A VECES TAMBIEN UN PINPAD (POSNET) PARA COLOCAR EL PIN, SIN EMBARGO ESTO SE ESTA HACIENDO COMUN PARA TODAS LAS TRASACCIONES CON TARJETAS EN VARIOS PAISES.
EN GENERAL, LA TARJETA DE CREDITO EN LINEA ES GENERALMENTE VISTA COMO SUPERIOR A LA TARJETA DE DEBITO PORQUE SU SISTEMA DE AUTENTICACION ES MAS SEGURO Y ACTUALIZADO, EL CUAL ALIVIA LOS PROBLEMAS DEL RETRASO DE PROSESAMIENTO DE LAS TRANSACCIONES QUE SOLO LAS TARJETA DE DEBITO PUEDEN TENER.
ALGUNOS SISTEMAS DE DEBITO EN LINEA ESTAN USANDO EL PROCESO DE AUTENTICACION NORMAL POR INTERNET BANCARIO PARA PROVEER TRANSACCIONES DE DEBITO EN LINEA EN TIEMPO REAL.